Airplane Watching and Recognition

- Antonov An-124

Lockheed C-5 Galaxy-
Some pictures on this page are available in enlarged version (~ 250 Kb).
If your cursor transforms itself into a pointing hand while on a picture simply click on it

This Lockheed C-5 Galaxy is a high wing jet plane we have already seen on this web site (see BAe-146).
It's the third largest plane in the world. It is used for military purposes only .
The distinctive element between the C-5 and the AN-124 is the tail assembly. The C-5 has a T tail
the An-124 has low stabilizers at the fuselage level.
Just as a reminder : it may look like a BAe-146, but you cannot be fooled by the size...
Wing span of the C-5 is 67,88 meters. An-124 is 73,30 meters.
The C-5 is longer (75,54m) than the An-124 (69.10m).
The C-5 can carry about 120,000Kg the An-124 about 150,000Kg.
Flying distance with maximum fuel load : C-5 (10 460Km), An-124 (16 500 Km).

Note: The dimensions on the pictures can not be directly compared. The C-5 was photographed for close distance with a wade angle lens. The An-124 was photographed from a distance with a 500mm lens.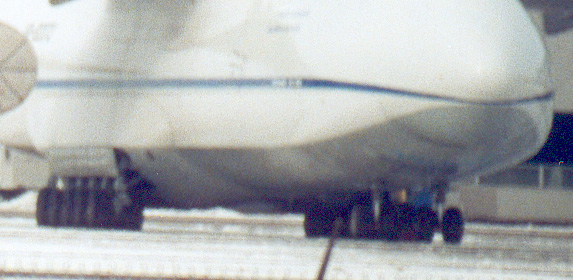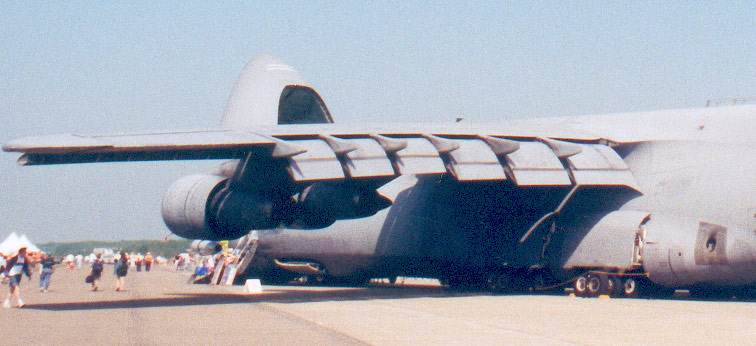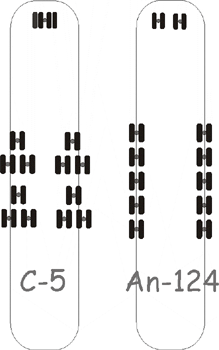 The least we can say is that these planes use up tires!

Both have four front wheel tires. On the C-5 they are mounted by pair on both side of a unique front landing gear. The An-124 two front landing gears, side-by-side, each having two tires.

As for the main gear, the C-5 has four groups of three landing gears each with two tires. Each group is in a triangle assemblage with one gear in front of the two others being side-by-side just behind the first one. Each "triplets" can be oriented by 45 degrees in onr way or the other thus facilitating ground maneuvers.
The An-124 has two series of five two-tires gears mounted one behind the other, on each side of the plane.
(see drawing. Note : this drawing is not scaled)
Texte / Text : Jean-Pierre Bonin © 1999-2000-2001
Some pictures on this page are available in enlarged version (~ 250 Kb).
If your cursor transforms itself into a pointing hand while on a picture simply click on it
---

You remember a few characteristics of the plane but can't remember the name?
Try this visual guide. I hope it will help you.

Click on the drawings to go to the visual identification guide.

---
Web site conception and production , text, pictures and illustrations : Jean-Pierre Bonin © 1999-2000-2001
Send suggestions and comments to : djipibi@hotmail.com
Web site created on August 8th 1999
Page created February 25th 2001, last update July 3rd 2001.

If you use my pictures or illustrations, please send me your web page address by e-mail.
If you use these images for a school research, then don't forget to mention the source of your document (and I wish you a good grade!)