Airplane Watching and Recognition

- Spotting more airlines -
We suggested that you try to find a same type of plane in different airline fleets.
Here are other Dash-8s

Three are model "102", basic version for 37 to 39 passengers. Models from the 300 serie like this 311 beraing Hydro-Québec markings can take 50 to 56 passengers.

These 4 pictures are available in enlarged version (~ 250 Kb).
Simply click on it
Sometimes, you will get a look far from ideal, due to bad weather conditions... and you won't get another chance to add that Airline to you spotter's list. (see below).
AirBC Dash-8 on final approach and a Canadi>n Regional Dash-8 waiting for tower permission to roll on runway for take-off. Calgary, January 12th 2000.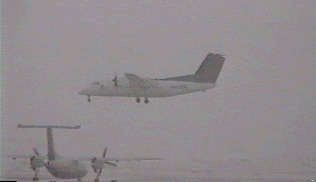 Air Canada has announced on Thursday January the 20th 2000 its intention to merge its three regional carriers.
airBC
airOntario
airNova
Service
Western Canada
Ontario
Québec + Maritimes
Employees
900
887
1 100
Planes
20
27
35
Links
33
22
29
Revenus 1999 (est.)
207 000 000$
338 000 000$
335 000 000$
Head Office
Richmond, C.-B./B.C.
London, Ont.
Halifax, N.-É./N.S.
airNova and airAlliance have already merged. The merger between Air Canada and Canadi>n at the end of 1999 may cause Canadi>n Regional to merge with the above mentionned companies also.
Text : Jean-Pierre Bonin © 1999-2000
Except the last table with data taken from :
Air Canada veut plus de vols au Québec, in La Presse, C1, Montréal, vendredi 21 janvier 2000
Pictures on this page : Jean-Pierre Bonin & Pierre-0livier Bonin © 1999-2000-2001
---

You remember a few characteristics of the plane but can't remember the name?
Try this visual guide. I hope it will help you.

Click on the drawings to go to the visual identification guide.
Web site conception and production , text, pictures and illustrations : Jean-Pierre Bonin © 1999-2000
Send suggestions and comments to : djipibi@hotmail.com
Web site created on August 8th 1999
Last update of this page July 7th 2000

If you use my pictures or illustrations, please send me your web page address by e-mail.
If you use these images for a school research, then don't forget to mention the source of your document (and I wish you a good grade!)