Modèles et passe-temps / Models & Hobbies
Tous les liens sur cette page ont été vérifiés le 19 février 2005 et étaient fonctionnels.
Si vous notez des liens dysfonctionnels ou vous menant vers des sites non reliés à l'aviation, j'apprécierais que vous m'en informiez.
All links on this page were tested and were functionnal on February 19th 2005
If you see dysfunctional links or links leading to sites not related to aviation, please write to me.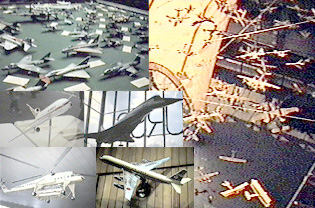 Aero-Boutique (Québec, Canada)
(Fournitures pour pilotes et amateurs d'avions /Pilot Supplies and for aviation enthousiasts)
Aéromodélistes / Aeromodelists
voir aussi "Club" / also see "Club"
Aéromodélistes d'Abitibi-Témiscamingue
(aéromodélistes/Aeromodelists)
Aeroworks (Colorado, É-U/USA)
(avions téléguidés / guided model airplanes)
African Aviation Slide Service (Afrique du sud / South Africa)
(diapositives/slides)
Airliners Distributing Inc. (Nevada, É-U / USA)
Gemini jets
(Modèles d'avions de ligne, en métal coulé sous pression 1/400e / 1/400 scale diecast metal airliner)
Airplane Shop (New-Jersey, É-U / USA)
(Modèles d'avions faits main/Custom Display Models)
Airplane Superstore (Virgine, É-U / Virginia, USA)
(Modèles d'avions / Display Models)
Art-aviation
(espace d'échange aux amateurs et collectionneurs de maquettes d'avions et d'objets de Compagnies Aériennes /
buy, sell, browse, trade or display your favorite aerospace models and collectibles on this free site)
Art-haus (Arizona, É-U / USA)
Avions en aluminium - Desk models (France)
(Maquettes d'avions en aluminium - créations originales, numérotées et signées /
Aluminium desk models - original creation, signed and numbered)
Aviation Center


(Modèles d'avions "Herpa", "Gemini Jets"/"Herpa" Models, "Gemini Jets")
Aviation Poster
Aviation World (Ontario & Colombie-Britannique/British Columbia, Canada)
(Livres, passe-temps d'aviation et matériel pour pilotes /Books, Aviation Hobbies & Pilot Supplies)
Bader Models (Bahrain)
(Modèles d'avions / Aircraft models)
BUCHairSHOP (Suisse/Switzerland)
(Articles de collectionneur / Collector's paraphernalia)
Classic Aircraft Collections Ltd.
(Articles de collectionneur / Collector's paraphernalia)
Classic Aviation Art
Club Aéromodéliste Repentigny (Québec, Canada)
Club d'aéromodélisme de St-Prisme (Québec, Canada)
Club d'aéromodélisme "Les Moustic Air de La Sarre" (Québec, Canada)
Club "Amidair avions téléguidés Mirabel" (Québec, Canada)
Club "Les ailes de l'aigle Monmagny de l'Islet" (Québec, Canada)
(Aéromodélisme / Aeromodelism)
Club modéliste"Sol-Air Bois-Francs Victoriaville" (Québec, Canada)
(Aéromodélisme / Aeromodelism)
Collectair Limited Editions (Grande-Bretagne / Great Britain)
(Lithographies / Prints)
Collectors Aircraft Models (Grande-Bretagne / Great Britain)
(Modèles / Models)
Dragon Wings (Dragon Models Ltd.) (Hong Kong)
(Modèles d'avions de ligne / Airliners models)
Executive Display Desktop Models
(Modèles d'avions / Airplane models)
Galerie de l'aviation Inc. (Québec, Canada)
(Modèles réduits, vidéos, photos, livres, jouets, épinglettes/Airplanes models, videos, photos, books, toys, pins)
Hannants (Angleterre / England)
(Décals / Decals)
Herpa Wings (Allemagne/Germany)
(Modèles d'avions / Aircraft models)
International Airport Videos (Californie, É-U / California, USA)
(Vidéos et DVD d'avions / Aircraft vidoes and DVDs)
Jetway Models
(Modèles d'avions / Aircraft models)
J J Postcards (Suisse / Switzerland)


(Cartes postales d'avions / Aircraft postcards)
Justplanes Videos (Maine, É-U / USA)
(Vidéos/Videos)
Military Art Galery (The) (Michigan, É-U / USA)
Modélistes aéronautiques associés du Canada (Canada)
(Aéromodélisme / Aeromodelism)
Motion Models (New-York, É-U / USA)
(Modèles d'avions / airplanes models)
MR Aerodesign (Canada)
(plans d'avions téléguidés faits par ordinateur/ R/C aircraft CAD plans)
Nostalgair (Australia)
(Modèles d'avions de ligne, en plastique 1/200e / 1/200 scale plastic airliner)
Novagraphics Space Art Galery
Pepair.com [Sivac Aviation] (Île de la Réunion)
(importateur et distributeur de maquettes et articles ayant un lien direct avec le monde de l'aeronautique)
Radio Control Soaring


(Foam models)
Rise Soon (Taiwan)
(Modèles d'avions de ligne / Airliners models)
Riveting Images (Wisconsin, É-U / USA)
( Illustrations)
Russian Aerospace (Californie, É-U / California, USA)
(Objets de collection/Collectibles)
Schabak (Allemagne / Germany)
(Modèles d'avions de ligne / Airliners models)
Sky's the Limit Aviation (Floride, É-U / Florida, USA)
(Modèles d'avions / airplanes models)
Spitfire Art (Grande-Bretagne / Great Britain)
(Lithographies / Prints)
Squadron Flight Shop (Maine, É-U / USA)
(Modèles d'avions, écussons... / airplanes models, patches...)
Threshold Aviation (Ontario, Canada)
(Passe-temps d'aviation et matériel pour pilotes /Aviation Hobbies & Pilot Supplies)
Transmac (Grande-Bretagne / Great Britain)
(Modèles / Models)
Tristar Inc. (Géorgie, É-U / Georgia, USA)
(T-shirts)
VIP Photo Service (Suisse / Switzerland)


(Photos et diapos d'avions / Airplane pictures and slides)
VIP Pilot Centre (Qc / Canada)
(Matériel pour pilotes... / Pilot supplies...)
Viking Slides (Suède / Sweden)
(Diapos de transporteurs aériens /Airliners slides)
Production et conception du site, textes, photographies et illustrations : Jean-Pierre Bonin © 1999-2005
Web site conception and production , text, pictures and illustrations : Jean-Pierre Bonin © 1999-2005
Pour suggestions et commentaires / Send suggestions and comments to : djipibi@hotmail.com
Site créé le 8 août 1999 / Web site created on August 8th 1999
Page mise à jour le 19 février 2005 / Last update of this page February 19th 2005

Si vous utilisez mes images ou mes photos, SVP envoyez moi l'adresse du site par courriel.
Si vous utilisez ces images pour un travail scolaire, alors citez la source (et je vous souhaite d'obtenir une bonne note!)

If you use my pictures or illustrations, please send me your web page address by e-mail.
If you use these images for a school research, then don't forget to mention the source of your document (and I wish you a good grade!)