Building a Pelican (November 19th 2000, part 1)
November 19th 2000
Week 20 of our follow-up of the building of a Pelican Sport from Ultravia Aero International Inc.
Since week 17, work as slowly progressed assembling control parts for flaps and ailerons. Here is a brief progress report on week 20.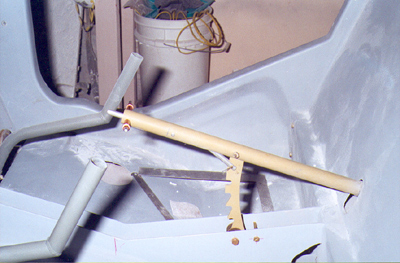 The handle activating the flaps as an unlocking button and a notched part for step by step flaps extension. It is shown here in fully pulled position (=flaps in full extension). Four notches can be seen permitting four flaps angle adjustment.

Outside the cockpit, near the wing root, we can see the transmission arm which will be linked to the left wing flap.
(left, handle down = flaps retracted (trailing); right, handle up = flaps fully extended)

| | |
| --- | --- |
| | |
| This pictures serie shows the mechanism behind the bench in the cockpit. | |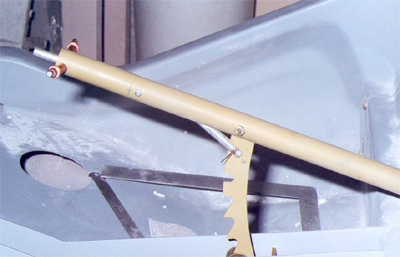 À propos de l'auteur/ About the author

Web site conception and production , text, pictures and illustrations : Jean-Pierre Bonin © 1999-2007
On this page, some pictures by Luc Couillard & Christian Godin © 2000
This page is made possible with permission of Luc Couillard & Christian Godin © 2000
Send suggestions and comments to : djipibi@hotmail.com
Web site created on August 8th 1999
Page created November 23rd 2000
Last update January 1st 2007

If you use my pictures or illustrations, please send me your web page address by e-mail.
If you use these images for a school research, then don't forget to mention the source of your document (and I wish you a good grade!)