Airplane Pictures from the 60's & 70's
- Old logos from North and Central America -
TransCanada Airlines - Air Canada
Trans Canada Air Lines was created in 1937.

In the mid 60's, Trans Canada became Air Canada. The graphics painted on the fins showed a white stylized maple leaf in a white circle on a red background.
The Viscount first came into service in 1954.

The old Trans-Canada Air Lines Viscount on the left illustrates the "traditionnal" graphics used by most airlines in the 60's. The fin on the right illustrates the '80s colorful graphics. (One must admit that in the early 2000, we see numerous "clinical white" planes from one company to another. This must reduce paint jobs as carriers lease their planes to one another from season to season...)

A new logo was introduced in 1993 with a more realistic red sugar maple leaf on a (very) dark green background.
The stylized maple leaf in a circle was kept forward of the name on the fuselage but red on white background.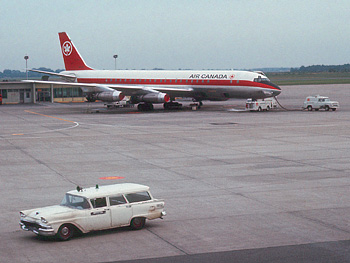 Air Canada has had a diversifed fleet through the years.

In 1967, during EXPO 67, some were caught dreaming a bit...
---

Text : Jean-Pierre Bonin © 1999-2002
Photos : Trans Canada Air Lines Viscount & Norhteast DC-6 - Dorval, Sept. 1965


---

Some information of the text found in :
Air Canada, le pionnier du Nord in Toute l'Aviation. La grande aventure technologique des avions civils et militaires, Éditions Atlas, 1992.
Web site conception and production , text, pictures and illustrations : Jean-Pierre Bonin © 1999-2003
(Corporate logos and illustrations are copyrighted by the respective companies)

Send suggestions and comments to : djipibi@hotmail.com
Web site created on August 8th 1999
Last update of this page June 23rd 2003

If you use my pictures or illustrations, please send me your web page address by e-mail.
If you use these images for a school research, then don't forget to mention the source of your document (and I wish you a good grade!)