Building a Pelican (July 17th 2000, part 3)
July 17th 2000 (part3)
Week 3 of our follow-up of the building of a Pélican Sport from Ultravia Aero International Inc.
Pictures shown this week are loaded on 4 pages : page 3 regarding the fuselage, page 3 a for miscellaneous parts,this page for the wings and 3 c for the tail assembly.

Christian in his workshop where the metal parts of the plane are stored.

A view of the internal structure of the wings.

Near the fixation point of the wings to the fuselage, we can see an enlarged space between the wing ribs. This space is provided for the installation of the fuel reservoir.

The Pelican is equipped with two 12-imp. gallons (55 litres) fiberglass reservoirs with about 23 imp.gallons (105 litres) of usable fuel.
This week's Secret of the Trade.
How to store such fragile and large structures like the wings, stabilizers, elevators and rudder?
For the wings, an ingenious device made of wood and a piece of carpet serve as a cradle preventing contact with the ground.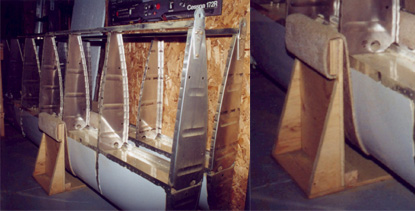 For the horizontal stabilizers, ailerons, fin and rudder, custom made shelves will do the trick.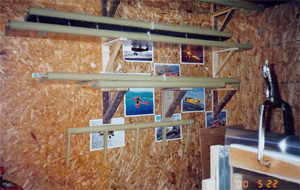 À propos de l'auteur/ About the author

Web site conception and production , text, pictures and illustrations : Jean-Pierre Bonin © 1999-2007
On this page, some pictures by Luc Couillard & Christian Godin © 2000
This page is made possible with permission of Luc Couillard & Christian Godin © 2000
Send suggestions and comments to : djipibi@hotmail.com
Web site created on August 8th 1999
Page created July 20th 2000
Last update January 1st 2007

If you use my pictures or illustrations, please send me your web page address by e-mail.
If you use these images for a school research, then don't forget to mention the source of your document (and I wish you a good grade!)